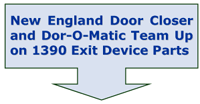 New England Door Closer is pleased to announce the purchase of the remaining inventory of Dor-O-Matic 1390 series exit device parts from Ingersoll-Rand. The transaction allows NEDC to continue to provide some of the more commonly used parts for the workhorse 'in-line' device and further validates Ingersoll-Rand's commitment to customer satisfaction and product support even after change and obsolescence.
For close to 30 years, the Dor-O-Matic 1390 had been the standard and innovator in the world of in-line exit devices. Developed to minimize damage from carts and other such hazards, in-line devices recess into the door when they're dogged leaving no profile or obstruction. Even in the latched mode, the low profile nature of the device was an effective deterrent to vandalism and had an unexpected benefit of gaining clear opening space for ADA applications.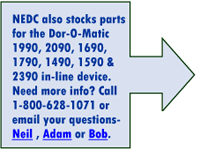 Door manufacturers such as Vistawall, Kawneer and EFFCO incorporated the 1390 into their door packages for years. When Ingersoll-Rand purchased Dor-O-Matic, one of their first priorities was to revamp and improve the in-line panic. This gave birth to the Dor-O-Matic 2390 which utilizes a modified Von Duprin 'Inpact' exit device. The new product is vastly superior to any of its predecessors but the problem remains that it is not an exact retrofit for the old 1390. While it can be done, it's a complicated installation. Both Dor-O-Matic and Von Duprin realized that making parts available for 1390 devices should still be a priority for the customers who've been loyal to them.
Parts availability is key for in-line devices because retrofitting to either rim, mortise or vertical rod devices can be messy, expensive and downright ugly. Their door prep is unique and it's hard to find something to fill the huge holes left in their void. This is why so many customers are faced with replacing an entire door for the want of a few parts.
Like any buyout of a discontinued item, many 1390 parts are fairly scarce while others are available in abundance. New England Door Closer's extensively trained exit device personnel (aka Neil, Adam and Bob) are ready to assist and look for the best way to solve your 1390 situations. Please see our 1390 parts breakdown, service manual and dogging replacement PDF files for greater technical information and related part numbers.
We are pleased to add the 1390 to our growing stable of exit device parts which was greatly bolstered last year by the purchase of 'Papadon Parts'- the leader in all things Von Duprin past and present. NEDC also stocks large quantities of parts for Dor-O-Matic's 1990, 2090, 1690, 1790, 1490, 1590 and, yes, even the 2390 in-line device.
When you think of any exit device parts, think of New England Door Closer.